Harnessing Spirit: Working with Octaves 1
---
The Great Bear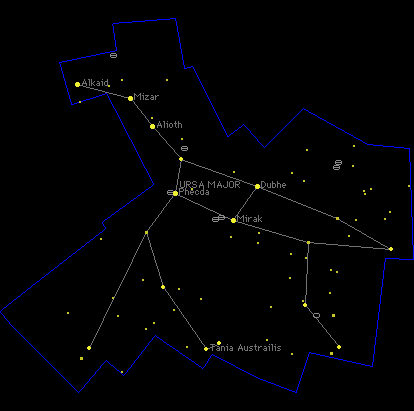 Throughout Esoteric Astrology and indeed, throughout Theosophical writing as a whole, the 'three and the four' are emphasised as having a particular significance. Three is the number of spirit and four is the number of materiality. Spirit becomes soul with the decent into materiality (3+4 =7). Seven is the number of soul
Students of Transitional Astrology will be familiar with these numerical values.
In the northern hemisphere the constellation called variously the Great Bear, The Big Dipper, Charles's Wain and the Plough is an ever-present reminder of the three, the four and the seven.
If this asterism is taken apart then the three are of a shape that may be found again in the constellation Aries and the four in the constellation Libra. In terms of the zodiac, Aries marks the place that the involutionary journey around the Zodiac commences; it is in Libra that reversal takes place and the soul begins to shine through the personality. Aries is synonymous with spirit; Libra with balance, in this case the balance between spiritual and materiality. Consciousness of the relationship between these two points gives us what we call spirituality.
According to esoteric tradition there are seven planes of nature and seven planes of consciousness, which express the quality (soul) of the Absolute. The manifestation of energy in space, time or in both is governed by the Law of Seven or the Law of Octaves. The musical scale expresses the Law of Seven
In The Fourth Way, Ouspensky defined the law of Seven thus:
Everything goes by octaves, no vibration, no movement, no activity can go any other way.
The Law of Seven means that no force ever works continuously in the same direction; it works for a certain time, and then diminishes in intensity and either changes its direction or undergoes inner changes. It shows that force can develop in one direction and shows the places where these changes and retardations occur.
The Law of Seven is the reason why there are no straight lines in nature; it is also the origin of man's free will. Without intervals there would be only predeterminism.
The interval upon which we are focusing in this article is the mi-fa interval, between the third and fourth notes of the ascending octave (and 5th-6th in the descending octave)*
Look at this star in the constellation the Great Bear. To the naked eyes it is weakest star and in contrast to the other six stars, unnamed by astronomers. If the entirety of the constellation the Great Bear is taken as doh of a higher octave, then the first of the stars is si and this faintest star represents fa-mi on a descending octave. The last, seventh  star, doh is called Dubhe which in Arabic means Bear and so there is correspondence, as is to be expected, between the doh notes of two connected octaves, and this relationship is picked up in the names.
As the law of seven governs everything that moves in time or space, people who are working towards goals and wanting to use time and effort efficiently, will benefit from a practical understanding of it. Without additional input at the intervals, our endeavours will run off course because, as Ouspensky puts it effort (force) works for a certain time, then either diminishes in intensity or undergoes inner changes.
Octaves are of two kinds.
There are those that belong to the world of manifestation (4) and those that belong to the world of spirit (3). We will call them octaves of manifestation and octaves of intent.
In the world of manifestation every form that is born will eventually die, and its life, however long or short, forms a complete octave that expresses its quality (soul). The esotericist knows that it is all there in the beginning. The moment of death is set at the moment of birth and the life-span represents a complete octave. This is true of organic life, artifices, situations and events.
To give some practical examples: A course of study that is organised to run over a pre-set number of weeks (or modules if the time factor is not expressive of the course's quality) will contain the mi-fa interval. When we know what this is, we can ascertain where this interval occurs and to be prepared for the challenges that will occur at that time to enable the course to change gear. If the person supervising the course has an awareness of the interval the change of gear will be handled purposefully.
A meeting that set up to last for one hour forms a complete octave and approaching half an our into the meeting it will hit the mi-fa interval. Depending upon the way that it is handled by those present, the meeting will either accomplish what it set up to do or it will not.
I have just done some work for a client who is having a lot of building work done in the summer of 2004. For reasons, which are to do with the building's function, this work must be completed before mid-September. We have set a start date and a completion date that she must then communicate to the builders. This gives the octave of the building project and we can see from this when the mi-fa interval will occur and when my client should be on hand to see what extra in-put is needed. Imposing this structure is likely to serve efficiency far better than viewing the completion date as a movable point. But having established this structure and taken it into consciousness, it will be up to my client to ensure that the builders are kept on track, and what manifests at the mi-fa interval will determine how easy or difficult this is, and will itself be an expression of what was there in the beginning
Using a different kind of example, the mi-fa interval of the zodiac falls in the sign Virgo, the sign in which the Christ energy is nurtured.
These octaves belong to the world of manifestation or form, and we have as much opportunity to interact with them consciously as we have awareness of the length of the octave that is expressing the quality of what we have manifested by setting it in motion.
Knowledge of the octave confers the opportunity and the responsibility to good effect. This recommends previewing organising events and activities in order to identify the intervals.
In the situations in which we are participants, individually or as part of a collective, the mi-fa interval should always be viewed as a point of challenge and opportunity and a place of choice.
Throughout our lives we will become caught up in octaves already in motion and over which we have no control. They may be either ascending or descending*. Some octaves, notably those of a culture, a state or a religious tradition and of such length and complexity that the untrained mind will not be able to ascertain where in the octave we are making our own contribution, or even whether they are declining or ascending octaves. But our concern in this article is those things that we can influence.
If western astrology had developed in a way that encouraged prediction, we would be able to set the octave at the time of birth by identifying the time of death, from the natal chart. But instead, in the West, we have eschewed the predictive usage and chosen to see the kind of decisions and actions taken during the course of a life as having bearing upon its length. We view this as an aspect of free will, and so we approach our lives as if they are open ended and this calls for another kind of octave.
This is the octaves of intent. Intent belongs to world of spirit (3) which has no beginning and no end. Spirit is and we harness it to enable us to achieve our goals. In this case we are not dealing with something with a birth and death but rather a moment in which we engage with it on the mental plane and if we would keep it with us, then we must arrange for our minds to hold it.
Endurance is the nature of spirit and determination is the lowest aspect of will. Spirit lends these qualities to our effort without being arrogated by it. The three joins with the four but it retains its separate identity. It is consciousness that is aware of spirit that permits this.
The octave of intent expresses the quality of the conscious effort involved rather than the activity of the event or object to which it is applied. With this way of looking, the activities are simply a means of harnessing the energy; the rungs on a ladder that we are using to take ourselves upwards, having understood that our effort will be subject to the Law of Seven and without renewing our commitment we will not sustain an effort for long
The octave of intent works through every unit of time of which the human brain can register, although in most cases it may not be until the units reach hours and days that they will impact most noticeably, and months and years will also show themselves to be useful units of time.
We will find the third to fourth day of a diet hard and if we intend to continue with it we must be prepared for this interval. By the 6th day a momentum may have developed to take us on to day seven and then onto a new octave. But we have not escaped the challenges even then; because the third octave starting on day 15 is itself a mi-fa interval and all seven days of this octave will contain a challenge to continuity.
Events and situations are also a useful alternative measure in an octave of intention. The third meeting of a campaign, for example, will be important for the future of that campaign.
Focusing upon one kind measure does not invalidate the others, which will remain in the background as unactivated latency. Octaves of intent are created and sustained by awareness. It is like joining the dots in a child's puzzle and seeing a picture emerge from what hitherto was undifferentiated - which is what consciousness has ever done to the flow of energy that is life.
Transpose these ideas to human years in a culture which views death as a moving point and you understand the fact known to the esotericism if not to medicine, that a child is presented with a challenge between the ages 2-3 ( the mi-fa interval of the first octave) that tests his will to stay in incarnation and unfold the plan of his life. The 'terrible twos' are an aspect of this. Age 14 -20 that represent the mi-fa interval are challenging years. Age twenty-eight starts the 5th (individualising creative)octave of life and age 35 the 6th (synthesising) octave of life. Both these age are ages of extreme importance in person centred astrology. Age 49 starts a second set of octaves.
Again these octaves made from the years of a life apply not the biological fact of a life but to the experience of living. This will become more meaningful if awareness of the natural flow through the octave is present. The biological reality is that our physical selves has its own octave that is running in the background that we may or may not discern.
As part of an effort to harness the energy of spirit we can consciously create octaves of intent, in which case we use as part of a resolution to raise our vibration, we create an octave of intention by a resolution to become more active. In consequence we may decide to go on a weekend retreat. That retreat will have its own octave (of manifestation) and will also become part of the octave of intent, a conscious effort to break out of apathy and inertia involving a range of activities all with their own octaves of manifestation. And in such a situation, when an interval in an octave of manifestation coincides with the same interval in the octave of intent, this would be a time of exceptional opportunity. Astrologers are familiar with the coming together of different levels, as happened when secondary and primary directions of the same nature coincide.
If we are concerned with living purposefully and using our time in incarnation well, then we do well to learn to work skilfully with octaves of both kinds so that we may see the use the opportunity in the intervals
In the coming months we will look at the other intervals in the octave with reference to the experience of living, and at the kind of challenges that a person faces at these ages
note
si
la
so
fa
mi
re
do
Octave
age
13
12
11
10
9
8
7
2nd
age
20
19
18
17
16
15
14
3rd
age
27
26
25
24
23
22
21
4th
age
34
33
32
31
30
29
28
5th
age
41
40
39
38
37
36
35
6th
age
48
47
46
45
44
43
42
7th
note
si
la
so
fa
mi
re
do
Octave
age
55
54
53
52
51
50
49
1st
age
62
61
60
59
58
57
56
2nd
age
69
68
67
66
65
64
63
3rd
age
76
75
74
73
72
71
70
4th
age
83
82
81
80
79
78
77
5th
age
90
89
88
87
86
85
84
6th
age
97
96
95
94
93
92
91
7th
Octave of manifestation of a person who died at 63:
63
54-62
45-53
36-44
27-35
18-26
9-17
0-8
---
As will be seen from the above tables 63 years represents 9 complete octaves of intent.
As age 23 falls within the mi-fa interval in the octave of manifestation and the octave of intent we must assume that his was a year of particular significance in the unfolding of the life.
* an ascending octave is to be defined as between a certain number of vibrations and double that number; a descending octave as between a certain number of vibrations and half that number.
Suzanne Rough
The DK Foundation
October 2003
Harnessing Spirit:
Working with Octaves